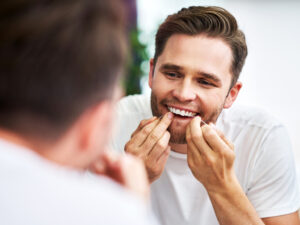 At Robert Matlach Dental in Huntington NY, our team knows that most patients want to prioritize cleanliness when it comes to their teeth. But the easiest things are also the most convenient, and we find that many of them turn to floss picks instead of traditional dental floss due to how easy they are to use.
We want to provide our patients and readers with the most effective tips for tooth health. In this spirit, we thought we would let you know the ins and out of these handy little tools. A floss pick usually has a handle that is pointed and can double as a toothpick. This is paired with a length of floss strung in a U-shaped groove. These picks are affordable and are often more compact than floss, so they can be used more discretely.
You might ask yourself it there are any downsides. After all, there doesn't seem to be much reason to opt for traditional dental floss. But if you're trying to make flossing a more regular part of your oral health routine, it is worth noting that floss picks are still a step below actual floss when it comes to effectiveness.
One issue we have found is that floss picks can't curve and form the angles needed for superior cleaning. Floss, on the other hand, can be reshaped into various angles in order to adapt to the uneven surface of teeth.
The responsible thing to do is communicate with your dentist. When in doubt, think of it this way: you should use dental floss daily in order to provide a clean standard for your teeth, then help maintain that standard throughout the day by using floss picks. If you love them, you don't have to stop using them! Just make sure to incorporate flossing as well.
Looking for a new dentist? Someone versed in this and many other general dentistry subjects? Fill out a new patient form and request an appointment at Robert Matlach Dental in Huntington NY. We serve satisfied customers in North Bay, East Smithtown, and South Melville and would love to answer any questions you might have.
Contact Matlach Dental:
Location (Tap to open in Google Maps):
ArticleID 6585